Be it Palentine's, Galentine's or the traditional Valentine's Day, hit up these vegan spots with "lovely" specials during this season.
Bistro Vonish
Bouldin Creek Cafe
Bruja's Brew Kombucha
Bunny's Cake Shop
Capital City Bakery (SOLD OUT)
Capital City Bakery will be throwing a Pal-entines Brunch Party, Sunday, February 9.
Unfortunately, this is just a tease because the event is by reservation only and already SOLD OUT. Mark your calendar for next year and better luck next time.
Casa De Luz
Citizen Eatery
Citizen Eatery posted a preview of its Valentine's menu on Instagram. Instead of reservations, however, Citizen Eatery asks you to use Yelp's waitlist app.
Citizen Eatery posted the full menu on Facebook:
Counter Culture
Enjoy a five-course Valentine's Prix Fixe Meal at Counter Culture. But hurry! Reservations are filling fast.
Curcuma
Li'l Nonna's
When is pizza not good date night food? Have The Valentine at Li'l Nonna's.
Milky Way Shakes
Milky Way Shakes has special Valentine's Day treats for you: boxes of chocolate-covered caramels.
Mr. Natural
NadaMoo! and Barnana giveaway
NadaMoo! Scoop Shop and Wheelhouse Salon Austin
Pie Jacked
Plant Powered Jazz (SOLD OUT)
Plant Powered Jazz presents a 1920s themed dinner cabaret called A Ruby Red Valentine's Day Cabaret. The event includes "…a plant-based cuisine, live jazz music and burlesque in a speakeasy-style setting."
Register for this event on Eventbrite. Note: the even is sold out as of Saturday, February 8, but you can join a waitlist.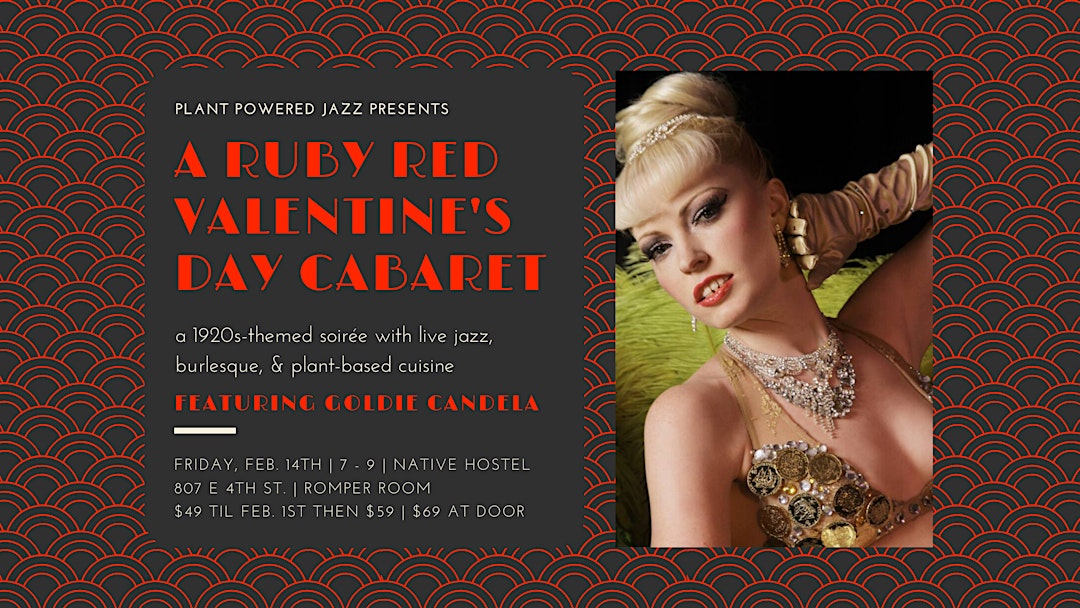 Plow Burger and NadaMoo! Scoop Shop
Possum Pizza (V-DAY SPECIAL SOLD OUT)
Rabbit Food Grocery
Not a restaurant, technically, but you can still take your sweet for some sweets at Rabbit Food Grocery.
Rebel Cheese
Sassy's Vegetarian Soul Food
Skull & Cakebones
Thai Fresh
Wheatesville, Bhoomi Cane Water and Dolce Seven Vegan Cheesecakes giveaway
Other notables
Ike's Sandwiches
True Food Kitchen
Try out True Food Kitchen's special three-course Valentine's inspired menu as posted on its Instagram page. You can make reservations on its website. Tip: be sure you have the right location before you make the reservation.
Zaika Restaurant
Zaika is pulling out all the stops for this special day. Its Lover's Buffet will be adorned with "roses, candles [and] wine mixed drinks."
Not food, but still sweet
Zucchini Kill Bakery
---
Know of an event not on this list? Let us know, and we'll update this post. Thanks!